The Republic of South Africa is at a critical juncture in its history. The national government has identified the teaching and learning of math and science as priorities in the educational needs of the country. While millions are no longer legally marginalized by the educational system, a massive infusion of material support and professional training of teachers and administrators is required, quickly, efficiently, and effectively to appropriately serve the long-neglected majority population of school children.In 2001, Punahou School (Hawaii) and the Cassim Peer Trust (South Africa) co-sponsored an international professional development project that sent a team of high school math and science teachers to South Africa to conduct curriculum-specific workshops with their South African colleagues from rural schools. The success of the pilot project led to more workshops in the following years, funded by grassroots community support in the USA and South Africa. 2015 will mark the 15th year of the Project.Workshop content is designed to meet and exceed the standards of the Curriculum and Assessment Policy Statement (CAPS). Without upgrading the skills of educators in rural schools in South Africa, students have little hope of getting a chance at higher education. More than 100 volunteers from the USA have given workshop training to 4500+ South African teachers, and 1.5  million students have benefited from their teachers' upgraded skills in the past 14 years. And ultimately, US students are also the beneficiaries of their own teachers' professional development and life changing experiences in South Africa.In the words of Mr. Y. Chamda, one of the South African administrators of the program,
…to see colleagues from opposite ends of the earth share knowledge and culture with such great warmth and caring, is a sight to behold. This is an example of international cooperation and global understanding at its best.
A special thanks to one of our primary sponsors First Car Rental.  http://www.firstcarrental.co.za/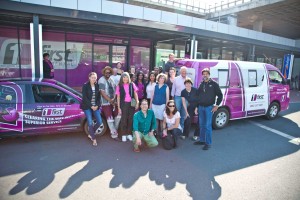 Mahalo (Thank You!),
Yunus Peer – Project Founder & Director 2001-present Punahou School – Honolulu, Hawaii, Academy Faculty.
8 July 2015
Lobamba, Swaziland
TABSA returned to Lobamba National High School on Wednesday July 8, 2015, three years after we first visited the school. The recognition and warm welcome was reassuring to the team. TABSA spent the day mentoring teachers and guest teaching in a few large classes with very eager and enthusiastic students.
Dear TABSA Sponsors and Friends,
Thank you for allowing us to serve.
After Week One with 220 math and science teachers in Kamhlushwa Township, (next to a town named Tonga) in Mpumalanga Province, we are now working in a UNICEF and Moya Centre sponsored, national teacher training program in Swaziland.
Our team is working with about 50 lead math and science teachers from high schools around the country ("trainers") . We expect 100 more high school teachers on Monday so TABSA can team teach with the trainers for two days.
We end next week with this same "trainer" cycle for 150 junior school teachers of math and science. 90% of all math and science teachers in Southern Africa teach both subjects.
Nadia Peer has documented our 2015 journey and I believe her pictures will tell more than a thousand words. (see link below)
Yunus.

Drum Magazine was first published in 1951 and is the 6th largest magazine on the 54 nation African continent.
The "linked" article on TABSA appears in the latest issue (October 16th) in the  "Inspiration" section. Published in English and Zulu, DRUM sells
more copies per month than any other Black publication in South Africa.