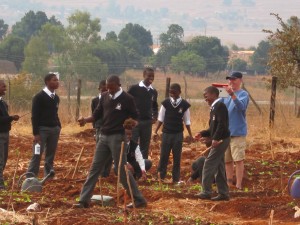 All four of my tours to South Africa with Teachers Without Borders and Teachers Across Borders have been meaningful and significant experiences.  This summer, however, stands out among the others.  There isn't any reason in particular, but I think a number of factors make it memorable for me.
To begin with, I had a great group of colleagues to work with who were knowledgeable and experienced in their fields.  Some were repeat volunteers and others were first-timers.  We blended our skills together and worked effectively with each other.  There was also good administrative support and assistance from our team as well as from the Mpumalamga School District and personnel.
The teachers who attended benefited immensely from the workshops.  They had a wide range of prior experiences and knowledge base.  Some needed content help, others needed reinforcement and others enrichment.  I felt that I was able to help them all and give them valuable lessons to use with their students.  I think they were surprised with the amount of information and ideas they obtained over the four-day workshops.  They also appreciated our efforts very much and frequently mentioned so.
During our third and fourth weeks, we were able to work with students in some of the country schools near Sabie and also later in Swaziland. This was as much fun as working with the teachers.  They were bright and eager learners.  They absorbed everything we taught them, which made the sacrifices we all made to be there seem small by comparison.  This was very rewarding.
The venue for our workshops was very good.  The classrooms were clean and attractive, and the large, well-equipped computer room allowed us to teach some basic computer skills and hold evening classes using the Internet to enhance our lessons.  Our dorm accommodations were very good, although still cold.  Open windows (even in the shower!) and doors when it is freezing outside is just a way of life.  We usually had enough hot water, and the dorm food was good and plentiful.
The school where we did our workshops was on the main road of the little town of Sabie.  This allowed us to easily go off campus and the freedom to mingle with the local people, access stores, restaurants and shopping with independence.  We were also able to go hiking on nearby trails and rent trail bikes and go riding.  The countryside around Sabie is beautiful, and there were a number of water falls and sights for us to visit on our off hours and weekends.  Spending a day in Kruger Park was a highlight for sure.
Lastly,  this year was also memorable be cause the custodians did not remove and burn all the cardboard boxes stored in my room for my teachers' projects.
The TABSA team and experience for 2012 was special.  Thanks, Yunus.