TABSA 2012 – Reflection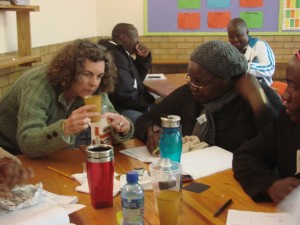 I sit to begin this reflection of my trip to South Africa at a lovely location.  It is Wednesday, July 11, the 23rd day of my time as a member of the Teachers Across Borders – South Africa (TABSA) team.  We are currently staying in a small town on the outskirts of the capital city of Swaziland, Mbabane.  It is the final days of our time together as a team, and we are enjoying the luxury of staying in a hotel nestled in the hills.  Though it is winter here the weather is mild.  There are flowering trees and a warm breeze.
This moment of tranquility follows three weeks of nearly continuous work.  Our team gathered in Johannesburg on June 19th.  There are thirteen of us on the team, nine who have been together for the entire time and others who have come and gone as their vacation times allowed.  The leader of the team is Yunus Peer, a teacher at the Punahou School in Hawaii.  Yunus grew up in South Africa and spent a few of his high school years at school here in Swaziland.  His father was an active member of the ANC, an illegal organization in South Africa during the apartheid era.  . Yunus's passport was confiscated for three years by the South African government for studying at Waterford School in Swaziland. On the eve of the Soweto uprising in 1976, his passport was returned and he left South Africa on a one-way ticket. Since his father's passing in 1997, Yunus has returned every year to work in rural school education in South Africa.
Yunus began this project in 2001. A team of experienced American math and science teachers conducted relevant and specific workshops for South African colleagues who teach in rural schools.  Students here do especially poorly in these two disciplines predominantly because it was illegal during the time of apartheid for any black child to be taught math or science beyond the primary grades.  Though the apartheid era ended in 1994 the legacy of this educational deficiency will take decades to be reversed.  Most rural black teachers did not grow up studying science and math and had only the minimal training in these subjects required to get a job teaching.  Thus they often have weak backgrounds in these disciplines and their confidence and facility with these subjects is poor.  As a result, most rural South Africa schools struggle to bring even half of their students to a passing grade in these subjects on national exams.
Working under the umbrella of Teachers Across Borders, Yunus has been bringing a team of American teachers to different provinces in South Africa for the past twelve years in order to address, as much as they are able, this educational deficiency.  Though initially the workshops were attended by teachers from rural high schools, Yunus soon recognized that the core curriculum in the middle school grades was where the need was greatest.  Thus the workshops in more recent years have focused on benefitting teachers of grades seven through nine.  The exceptional success of this program in South Africa has helped it grow in both size and stature.  Each year TABSA workshops are in high demand.
TABSA is an all-volunteer organization, with members of the team funding their own travel and/or finding their own sponsors.  Support from organizations within South Africa and in the United States helps keep these costs reasonable.  The South African Department of Education provides the financial and logistical support needed both to run the workshops and to fund the attending S.A. teachers' accommodations.  It is Yunus's hard work and dedication that have made all of this possible.  He travels to South Africa each year in March to speak with administrators and government officials to encourage them to support their teachers by underwriting their attendance and promoting the workshops.
Each year Yunus gathers his American team from among educators he has met, ranging from middle school teachers to college professors.  This year's team consisted of four teachers from Hawaii and three "mainlander" teachers as well as a few support people, many of whom were veterans of the TABSA program.  Also joining the team was an IT specialist who assisted teachers with computer skills and organized our disparate teaching materials onto a CD that was provided to each attendee.  Thokozani Mteshane, an assistant principal and math teacher in South Africa was also part of our team.  Having befriended Yunus years ago at a previous workshop, Thoko has attended for many years now as an administrative assistant for Yunus and, often, a necessary interpreter during our travels.
This year's workshops were held in the province of Mpumalanga, in the northeast corner of the country.  Recent national testing had ranked Mpumalanga last of the nine national provinces for grade 9 students in both math and science, so the need is very great.  Two 4-day workshops were held in Sabie, a small but lovely town in the hills near the center of the province.   Our accommodations were in a boarding school where we made use of the classrooms to hold the workshops.  Meals were served in a large dining hall, a wonderful gathering place, filled with conversation between colleagues from both South Africa and America.
The aim of the workshops was twofold – to review basic concepts in these disciplines and to present simple activities that could be carried out in rural schools using recycled items or inexpensive materials that could be acquired in rural markets.  Those of us leading the workshops were provided with the national teaching standards for South African students in these grades in order to plan our curriculum.  Certain topics were also identified by the Mpumalanga Dept. of Education as needing the most review.  In science, we divided this "curriculum" into three natural divisions:  "Life and Living" (biology),"Energy and Change" (physics) and my workshop which was titled "Matter and Materials" (chemistry).   The topics I covered were the basic principles of kinetic molecular theory, atomic structure and the periodic table, and chemical reactions.
Excited as I was to prepare materials for the workshops in the weeks leading up to the trip, I have never taught middle school, thus the teaching activities and curriculum I use every day would be inappropriate.  I was lucky enough to find a wonderful curriculum for middle school chemistry created by the American Chemical Society, all "freeware" on the internet.  The lessons were designed around very simple activities that used minimal equipment:  plastic water bottles, everyday grocery-store chemicals, and common cooking equipment.  Along with these lesson plans, I gathered as much support material as possible to be loaded onto CDs which were provided to each teacher attending the conference.
My aim in preparing the workshops was to help my South African colleagues bring more activities into their teaching, to give them some ideas that they could use to "do" science in their simple classrooms.  I also hoped that the activities would provide content to those teachers whose understanding of basic chemical principles was not strong.  I soon learned that the majority of these teachers needed the content I was providing as much as they appreciated the simple activities I was sharing with them.  Their appreciation for what they were learning during the four days was unbounded!  Such professional development and intellectual satisfaction was rare for these over-worked teachers.
Most of my South African colleagues in rural schools have classes of between 50 and 80 students.  Imagine the amount of work simply to mark papers, to meet with students after class is over, and to prepare for the work to be done each day.  And this they do virtually without computers.  Most teachers do not have a computer of their own and only have access to a school computer when it is not being used by an administrator.  Learning how deeply these teachers are disadvantaged in the tasks they face every day was a humbling and inspiring experience for me.
Yet the hope and commitment these teachers demonstrated during the workshops was heartening.  Given the opportunity to spend four days thinking about how they might make a greater impact in their classrooms, the teachers took full advantage of the workshops.  The four days of intense work offered these rural teachers not only intellectual stimulation, but engendered enthusiasm for their subjects, created a community in which they could share their experiences and frustrations with their colleagues, and fostered confidence in their knowledge of what they were teaching.  I was overwhelmed by the appreciation expressed by the attendees at the end of each session, and grateful for the opportunity to have assisted in making their struggle just a bit easier.
When we were not running workshops, much of our time was spent visiting schools, talking with educators, and working with student groups.  The variety of schools we visited offered a good look at both the basic facilities in which my South African colleagues teach, as well as the variety of administrative support available.  Each school was very simple – in every classroom there were desks and chairs, a teacher's desk, and a blackboard, nothing more.  Any kind of laboratory fixture was a luxury rarely seen.  It was disheartening to learn how many schools have facilities which are completely inadequate.  When asked to describe the challenges her students face, one teacher replied "How can any student learn when he or she must sit on half of a chair for five hours a day?"
Our school visits also allowed me to observe the varying degree of administrative effectiveness of rural South African schools.  In discussions with many of the workshop attendees I heard disheartening stories of mismanaged funds, of limited access for teachers to available computers, and demands of increases in students' test scores without additional resources required to attain that goal.  Yet we also saw examples of very well-run schools in which the administration was doing all it could to enhance the education of its students.  One school in a neighboring town with an especially committed and energetic administrator had a 100% pass rate for the national exams in her school.
In addition to these visits, Yunus worked to organize spontaneous teaching sessions for 9th grade students preparing for a national math exam.  On three of our free days, both in Mpumalanga and during our short time in Swaziland, we provided extra sessions, sometimes with more than 40 students per room, to help them prepare.  While we on the science team were not the principal teachers, we assisted with the tutorials and took turns teaching small topics, allowing our math colleagues a break.  The students were so very grateful for the opportunity for this extra tutoring and enjoyed themselves, too.  It was amazing to me how much of an influence we seemed to have, after just a few hours with these students.  They are so eager to learn!
One night Yunus called together the women on the team to travel to a nearby youth event for girls.  Each school in Mpumalanga province had identified a 9th grade girl who had the most potential to succeed in math and sciences.  In an effort to encourage them to choose this direction of study, these girls all travelled to Sabie for a few nights to learn more about the advantages of math/science education.  The women on the TABSA team were spontaneously invited to speak to the girls, about 150 in all.  Each of us either shared a story of our own educational journey, tactics the girls could use to maintain their confidence as students of math and science, and encouragement to choose this more rigorous avenue of study.  Our comments were well received, but perhaps the most fun part of the evening was the conversations that ensued during dinner as we sat with small groups of girls.  The math/science "camp," as it was referred to, was an outstanding opportunity for these young girls, many of whom had never been outside of their small villages.  Their eagerness to ask us questions, to explore what opportunities might become available to them as math and science students, was inspiring.
Our trip ended with five days spent in Swaziland, where we had hoped to provide smaller, more informal teacher trainings.  Unfortunately the teachers in the country were on strike, thus it was not possible to organize these opportunities.  However, there was still plenty for us to do in this small country.  Yunus quickly arranged more visits to schools and afternoon math sessions for students to round out this last leg of our trip.  We were never idle!
As I complete this reflection I am far from South Africa, back in New England enjoying all that summer vacation can provide.  I have been asked countless times what my experience was like and have struggled to provide a quick answer.  Yet each time I am asked, I am brought back to my four weeks working as a TABSA volunteer and have enjoyed the pleasure recalling another memory.  I will not easily forget the enthusiasm of my SA colleagues who attended the workshops, their willingness to ask questions and work together, their desire to do more for their students.   Neither will I forget the wonderful camaraderie of my TABSA team members, with whom I spent so much time.  Their dedication, unending energy, and enthusiasm were both an inspiration and a joy.
Nearly 200 teachers attended these workshops, which translates to more than 40,000 South African students who will benefit from the work of the TABSA team.  Of course there is so much more to be done to ensure that all South African teachers have the resources they need to be the best they can be, which is so much more than a small group of teachers from a privileged educational system could ever provide.  But for the teachers we met and worked with, our influence was significant, relevant, and meaningful.  And I suspect those teachers have instilled in all of us on the TABSA team renewed passion for what we do.  From them we have been given a new perspective on the importance of a solid education in providing hope for those seeking to improve their own lives and by extension, their communities and countries.