Teachers Across Borders South Africa Reflection 2012
James Metz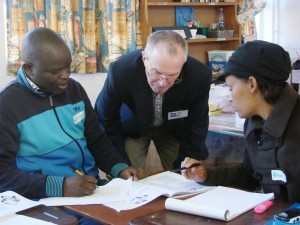 Overtime! I begin with thanks to Yunus for inviting me to participate in the project this year, despite my retirement from TABSA last year. I also want to thank TABSA's matriarch, Mrs. Amena Peer, for her continued support, as well as the family of Dr. Razvi Ahmed, who hosted me for a week before we began our work this year. I had such a refreshing stay in their home.
When I was a novice in my first year in 2003 I was fortunate to meet Thokozani. This year he joined us as assistant director as he has before, taking his first ride in an airplane. Once again he immediately endeared himself to our team and was a welcome addition. He taught us much. He has been such a good companion over the past years and he continues to inspire me.
The team Yunus assembled this year was exceptional. I was proud to be a part of the workshops that were exhausting, exhilarating, and very successful. I believe we all made a positive impact that will be felt by many in many schools in Mpumalanga Province.
I was especially pleased that we had opportunities to also work with many of the learners. Even as we thought we were winding down during the final day in Swaziland we managed to gather a large group of learners from a secondary school down the road from where we were staying. The only reason we stopped work with them was because it was getting dark and parents were no doubt wondering where their children could possibly be. Carl worked his usual magic with tales of Pythagoras, posing problems as he went. The entire team was involved getting markers, passing out materials, and assisting learners. What a nice way to end our journey – together!
Our challenges were small, especially compared with those our colleagues in South Africa face on a daily basis. Perhaps our greatest gift to them is our acknowledgement that what they are doing is important and our workshops encourage their continued commitment to their profession. We all benefited from learning how these courageous teachers deal with their enormous problems. I seriously doubt if many Americans would agree to teach in the schools of South Africa at which those who attended our workshops teach. I did, briefly, and rarely have I been so exhausted. After some conversations with the teachers over breakfast or dinner, I simply did not know what to say. Some situations are best described as desperate, yet the teachers would smile and say, "we must just do our best." I can only say that I admire these teachers and I cheer for their students who share many of the same challenges.
I am very fortunate to have been able to share some of what I have been privileged to learn over my career as a teacher. Yunus has given me a true Golden Parachute – the memories of 10 years of Maths and Science workshops with some very remarkable people. Many thanks to all who have been a part of those memories; team members, teachers and learners from South Africa. Nothing can diminish the feeling of joy I have for having been a part of this incredible project. The Roman numeral for 10 is X, so I suppose it is fitting that
after 10 years I take the X and leave with my good wishes for those who will follow me. I am so blessed.