Laurie Lee TABSA 2012 Reflection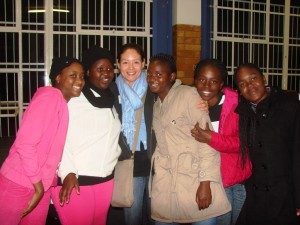 I learned of Teachers Across Borders South Africa two years ago when I had the pleasure of meeting its founder/director, Yunus Peer. I was most intrigued that TABSA was initially a grassroots effort that still functioned as such, and that no one involved earned a salary or stipend for their work. For the ensuing months, I learned more about the project, asked a lot of questions, and eventually set my sights on being a volunteer administrator for the June-July 2012 project. I looked forward to experiencing first-hand what I had been reading and hearing about from teachers who had participated in the project in previous years, particularly from 10-year TABSA veteran, Jim Metz.
As an administrator at an independent school, I recognize that our teachers shine when their needs are met, allowing them to really soar and do what they do best: Inspire young people. My role would be to provide support in whatever form was needed to the U.S. TABSA team of teachers, and subsequently, their South African counterparts who would attend the workshops.
When I told my children that I was going to South Africa to do volunteer work, their gut response was, "Why?"
When I told my parents that I was going to South Africa to do volunteer work, they said, "OK, as long as your kids are OK with it. But be careful."
When I told some of my colleagues the same, they said, "That's wonderful. I can't wait to hear about it when you return!"
While I have since shared my experiences with them and others in various conversations, and my children are now clear on the "why," putting it to paper has affirmed my intention to continue to support the project.
With my earlier background in television production, it is natural and most comfortable for me to work behind the scenes and set the stage for those who will be in the spotlight. In this case, they were the dedicated teachers who came together from opposite sides of the world.
Like a producer or stage manager, administrators shoulder the responsibility of ensuring that all runs smoothly, to the degree that the "audience" must never be aware of technical difficulties, personal conflicts, or other behind-the-scenes gaffes that may impact the performers.
The workshop classrooms were indeed a stage, with our TABSA teachers exhibiting their unique artistry in how they engaged South African teachers, presented concepts to them, or introduced experiments that these teachers could take back to their own schools. The South African teachers seemed genuinely excited to be in the workshop sessions, and some expressed how eager they were to return to their schools, more confident and better equipped to share the information they would walk away with. There were even a few "aha!" moments between small and large groups of teachers.
Each workshop day for me involved anticipating teachers' needs, both physical and emotional, capturing photos of the various math and science sessions, adjusting workshop schedules and photocopying worksheets, and at least one trip into the sleepy yet colorful town of Sabie. When there was a need for more paper clips or brad fasteners for Paul's house-wiring project, I'd head directly to the local stationers, who curiously seemed to expect me each day, or to Spar, the one and only grocery store, for batteries or cough drops for teachers talking for hours on end or fighting colds. Most importantly, we would stock up on bottled water to keep everyone hydrated. My moniker of "water police" followed me from Hawaii to South Africa as I made sure that some of our water-challenged teachers downed at least one glass with every meal.
One highlight for me followed our arrival at Sybrand Van Niekerk School that would be "home" for the next two weeks. A short time after our introduction to Department of Education Administrators Elijah Nkosi and Maria Kekana, they whisked away three of our science teachers, one math teacher, and me – all women — to attend a conference for 9th grade girls who excelled in math and science. 100 girls from various schools were selected by their teachers to attend this conference because they showed promise in these two areas – the areas of focus for the TABSA workshops.
Girls with bright faces sat rapt as they listened to each teacher's inspirational story of why she pursued math or science, with each woman echoing the other that girls can do just as well as boys in these subjects in spite of some attitudes to the contrary. That became the resounding message to these young women, some of whom live in and go to school in rural areas, without the comforts that most teenage girls in the U.S. take for granted. As I had met these teachers for the first time just one day before this impromptu presentation, I absorbed their personal stories as well and got a beautiful snapshot of half of the TABSA team I would be working with and supporting – in short, an awesome group!
Photo opportunities following these talks were quite popular, and the photos herein speak for themselves. We also had the opportunity to sit and dine with the young women and answer questions one-on-one.
The other highlight was the profound sense of gratitude expressed by the South African teachers, who attended these workshops voluntarily during their winter holiday. They emanated a warmth and kindred spirit that I believe is identical to our sense of aloha.
There were a few glitches in communication on the administrative end of the workshops that will enable us to imagine worst-case scenarios and better plan for future workshops. The fact that virtually all communication with our South African administrative colleagues is via email may play a role, especially when solidifying details. More consciousness and organization with those providing lodging, and their physical reception of SA teachers travelling from afar and arriving late at night would make for a more welcoming atmosphere and an even smoother launch of the workshops.
While I lamented not being able to stay for the duration of the project that went into mid-July, I looked forward to returning to Hawaii to see my children. I knew that the ensuing weeks would only get better because of the team of teachers involved, and I looked forward to hearing about them.
I saw hundreds of miles of the vast country of South Africa by car, yet only a fraction of all that there is to see and experience. On my departure day, I had three vivid images embedded in my memory: the ubiquitous taxi vans packed with commuters along highways and country roads; men and women hitch-hiking along stretches of road in the middle of nowhere; and women with babies on their backs, wrapped in beautiful cloths. While waiting for my flight at the Johannesburg airport, I browsed through a gift shop in search of additional treasures to bring back as gifts, when a display of gift cards caught my eye. I picked up a stack of cards — colorful vignettes of hand-stitched thread — and was stunned to find three that mimicked the vivid images of my memory. Synchronicity, I thought.
Once I settled back into the Hawaii climate and time zone, I would search for a tri-picture frame to house these three gift cards. My first day back at work, a colleague mentioned a box of give-away items that included a frame she thought I might like. As synchronicity would have it, it was a dark wood, tri-picture frame, sized perfectly to accommodate the three cards. It now hangs over my desk at home and serves as a wonderful reminder of my South African experience, and the invaluable work of TABSA and its remarkable team of volunteer teachers.